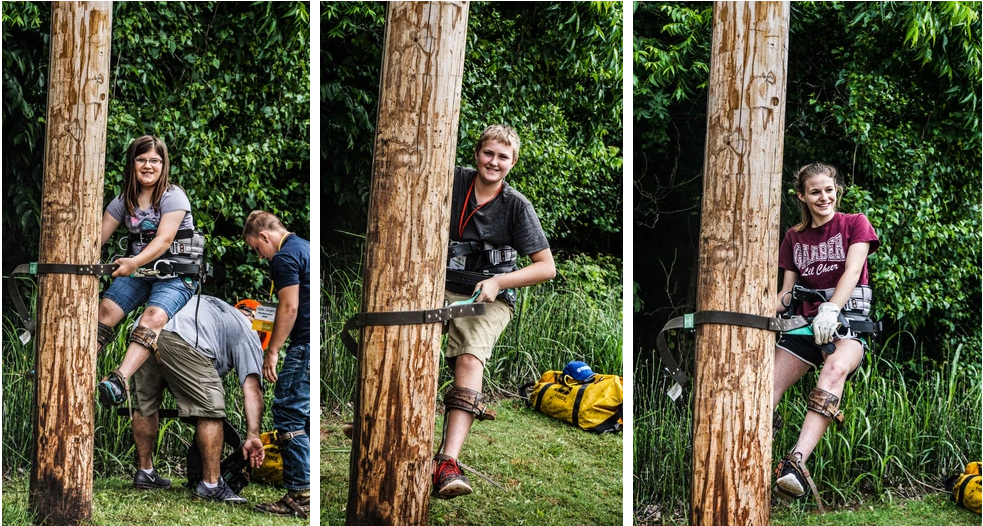 Each year, IEC joins the Oklahoma Association of Electric Cooperatives and electric cooperatives from across the state in sponsoring the Youth Power Energy Camp at Camp Canyon near Hinton, OK. The 4-day camp is designed to help 8th grade students develop leadership skills while having lots of fun.
Located at the beautiful Canyon Camp in Hinton, Okla., campers will engage in various leadership and electrification activities. The four-day camp is open to incoming/outgoing eighth graders from across the state. IEC covers all expenses related to the camp, including transportation to and from Canyon Camp.
Campers start out the summer right by making new friends with all the other energy camp winners from across the state of Oklahoma. There is lots of time for swimming!  Great activities like a photo scavenger hunt, volleyball, mini-golf, hiking, bucket truck rides and campers will be giving the opportunity to put on the official climbing gear of an electric lineman and climb a short distance up an electric pole under the supervision of a Journeyman Lineman. During hands-on interactive small groups, campers will learn about electric cooperatives. 
Topics like "Lines and Poles – build an electric distribution grid," "What happens when you flip the switch,"  "What's it like to be the Cooperative Manager, an Electric Lineman, and many other interesting and challenging cooperative careers," and the newest international project of electric cooperatives, "Bringing power to those who have never had power before, The International Electrification Projects." 
This fantastic camp experience is only offered to eighth graders, so choose your essay writing buddy today. Two teams will be selected from the submitted essays to represent the cooperative at Energy Camp. Individual essay entries are acceptable if a teammate is not available.
Deadline: Noon Monday, January 11, 2021 for Team essays and entry forms to IEC, PO Box 49, Cleveland, OK 74020.
Youth Power Energy Camp will take place June 1-4, 2021.
 
---
CONTEST ELIGIBILITY
Students classified as Eighth Grade students at the following schools or homeschooled in these school districts are eligible to participate in the IEC Youth Power Energy Camp contest. Children of IEC employees and IEC Trustees are eligible to participate in the Youth Tour competition.
Cleveland, Pawnee, Woodland, Mannford, Olive, Hominy, Yale, Frontier/Red Rock, Prue, Wynona, Pawhuska, Sand Springs, Shidler, Cushing, Jennings, Drumright, Oilton and Morrison.
Teachers receive financial recognition grant for contest winners who attend Energy Camp.
---
RESOURCES
The websites below contain facts, figures and stories that may be helpful as you prepare your entry:
History of American Cooperatives
For more information call:
918-295-9558