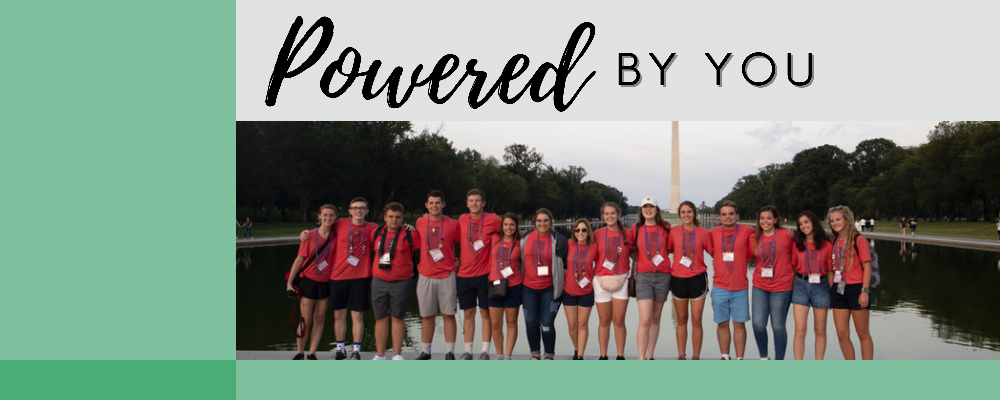 Local rural electric cooperatives choose students each year to represent Oklahoma in Youth Tour to Washington, D.C. They will join more than 1,600 other students from co-ops across the nation on a week-long, all-expenses-paid trip to tour national landmarks, meet with their congressional representatives and learn what it means to be an actively involved citizen.
Seventy Oklahoma students, including two high school juniors from IEC's service area, will receive an all-expenses paid tour of Washington, D.C. in June as winners of the Youth Tour Essay Contest.
Participants are selected through an application, essay, speech and interview process during which judges look for excellent academic achievement and community leadership.
Teachers receive financial recognition grant for top 4 finalists of Washington, D.C. Youth Tour Competition.
---
Youth Tour has three objectives:

To educate youths on all aspects of rural electrification in order to promote a better understanding of the value of rural electric cooperatives.
To provide an opportunity for youth to visit monuments, government buildings and cooperative-related organizations in order to become familiar with the historical and political environment of their nation's capital.
To provide an opportunity for youth to meet elected officials in order to better understand how their federal government works.
HOW TO ENTER
Must be a high school junior

Write an original speech of 600 to 800 words on topic provided

Speech must be typed and double-spaced on 8 1/2" X 11" paper

Complete the entry form

No name should appear on the essay, but must be included on the entry form along with school name, teacher's name and contact information.

 Download Printable Copy of Co-op Questions and Answers

Download Printable Copy of Co-op 101 Study Guide
---